Site
Increasing Support for Incentive Payments
September 2013 Results
2 Oct 2013
Employers are showing increased interest in offsetting low increases in Base Salary by offering higher incentive payment opportunities.
The results of the latest MHR Global Remuneration survey – New Zealand's longest established commercial remuneration survey – show that potential incentive payments for both Top Executive and General Staff have increased in the last twelve months. Over the same period, the average increase in Base Salary has largely stabilised at 3.6 percent for Top Executives and 3.2 percent for General Staff.
Managing Director of MHR Global, Kevin McBride, indicated that over the past ten years, the opportunity to earn incentive payments has been relatively stable, representing on average around 16 percent of salary for Top Executives and about 7.5 percent on average for General Staff.
"In the twelve months to September 2013 these figures have lifted noticeably, to just over 18 percent for Top Executives and to close to 9 percent for General Staff. When those increases are put alongside a slight lift in the proportion of staff in both groups receiving access to incentive payments, it would seem that many employers are trying to offset lower average increases in salary by offering access to increased incentive payments."
Mr McBride suggested that such a move is a pragmatic response to lower pay increases in recent years, as it allows employers to recognise the performance and contribution of high performing employees, without increasing payments to all staff on an ongoing basis. "The combination of fair pay increases – to offset increased costs of living and recognise ongoing performance – and higher potential earnings through increased incentive payments for high performing staff, provides employers with greater flexibility to manage remuneration costs effectively at a time when financial constraints are continuing".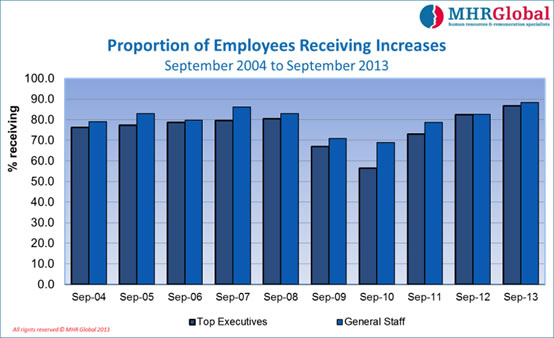 The survey results also show that average increases in Base Salary have largely stabilised. "Prior to 2009 average increases were typically between 5.0 and 6.5 percent" added Mr McBride. "Over the last few years average increases have been significantly lower, at 3.6 percent for Top Executives and 3.2 percent for General Staff. In that context a decision to offer higher incentive payments seems sensible."
In a related development, Mr McBride also noted that the proportion of staff receiving increases had also risen, following a noticeable reduction during the period from 2009 to 2011. "With the proportion of staff receiving pay increases reverting to the higher levels seen prior to the Global Financial Crisis, it is clear that many employers are taking a wider perspective on the options available to recognise staff contributions. In the longer term, that greater flexibility will mean that staff contribution is not reflected solely in high pay increases, but through a mix of pay increases and incentive payments."
Previous news items