Site
Latest MHR-Global Remuneration Survey
Proportion of employees receiving pay increases returning to pre-Global Financial Crisis levels
19 Sep 2012
The latest MHR Global remuneration survey shows that the proportion of employees receiving increases in remuneration has returned to the levels recorded prior to the Global Financial Crisis.
Managing Director of MHR Global, Kevin McBride, commented "For the first time since 2008, our September survey shows the proportion of staff receiving increases has risen above 80 percent, following a fall to 50 – 60 percent during the height of the GFC.
Significantly however, the level of increase being awarded remains conservative, with average increases for Top Executives being 3.9 percent and for General Staff 3.4 percent. Prior to the GFC average increases of between 5 and 6 percent were not unusual."
Mr McBride suggested that while the increase in the number of staff receiving increases is a sign that employers recognise the need to provide some level of adjustment to staff facing rising living costs, many organisations continue to feel financial pressures, as reflected in the low level of increases awarded.
The survey also reveals that while some high profile Chief Executives may have seen significant increases in the past year, that is the exception, not the rule. Mr McBride commented that on average, the increases received by Chief Executives were marginally below that received by other Top Executives..
"More significantly" Mr McBride added "the change in median value of Chief Executive remuneration (including bonus payments, and the effect of new appointments) was broadly in line with the change for General Staff. The change in Median Total Remuneration for other Top Executives however was around 1 percent higher overall than the change for CEOs and General Staff."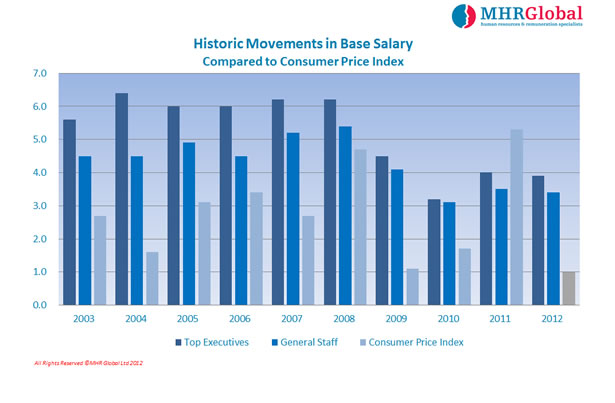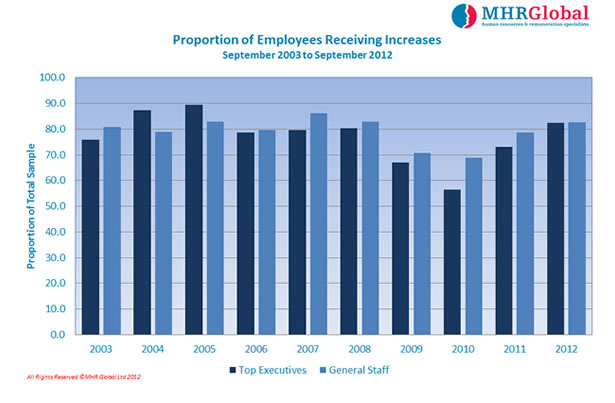 Previous news items